Lovelies, there is this drink I love so much, thats tigernut milk drink, so today i want to tell you guys how to make it, trust me, its sweet, delicious and nutritious.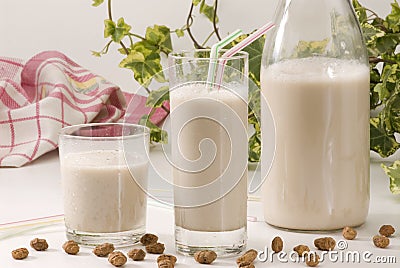 Tiger nuts are sweet and they can be eaten raw, I love chewing it in combination with peanuts (You got to try that). Tiger nuts has its benefits to health, it contains fiber in a high proportion, tiger nuts can be transformed into a smoothie or should I call it a drink called tiger nut milk( also called guero in Hausa language) The milk is mainly gotten from tiger nut, it is not a junk food because of the healthy ingredients contained in it and also the preparation methods, don't worry you will soon agree with me.
Ingredients for making Tiger nut milk
Coconut : you only need the fleshy endocarp
Ginger: well that's to add flavor to it
Sugar/honey: To improve its taste
Water: The basic ingredient
I assume you have bought the above ingredients, now this is what you will do a day before the production, you are going to soak the tiger nut(only) In water to soften it, and make the grinding process easy.
I assume that today is the day of the production, so you will follow these steps.
Wash out the soaked tiger nut from water
Peel your ginger, wash your dates, and get out the fleshy part of your coconut
Wash them all and grind
After grinding, sieve with a cloth (cotton or chiffon material will be perfect) .
Then add a little honey or sugar
Stir and fill into containers, leave it in the refrigerator to cool.
It can be served with a snack example meat pie, see how to make meat pie here.